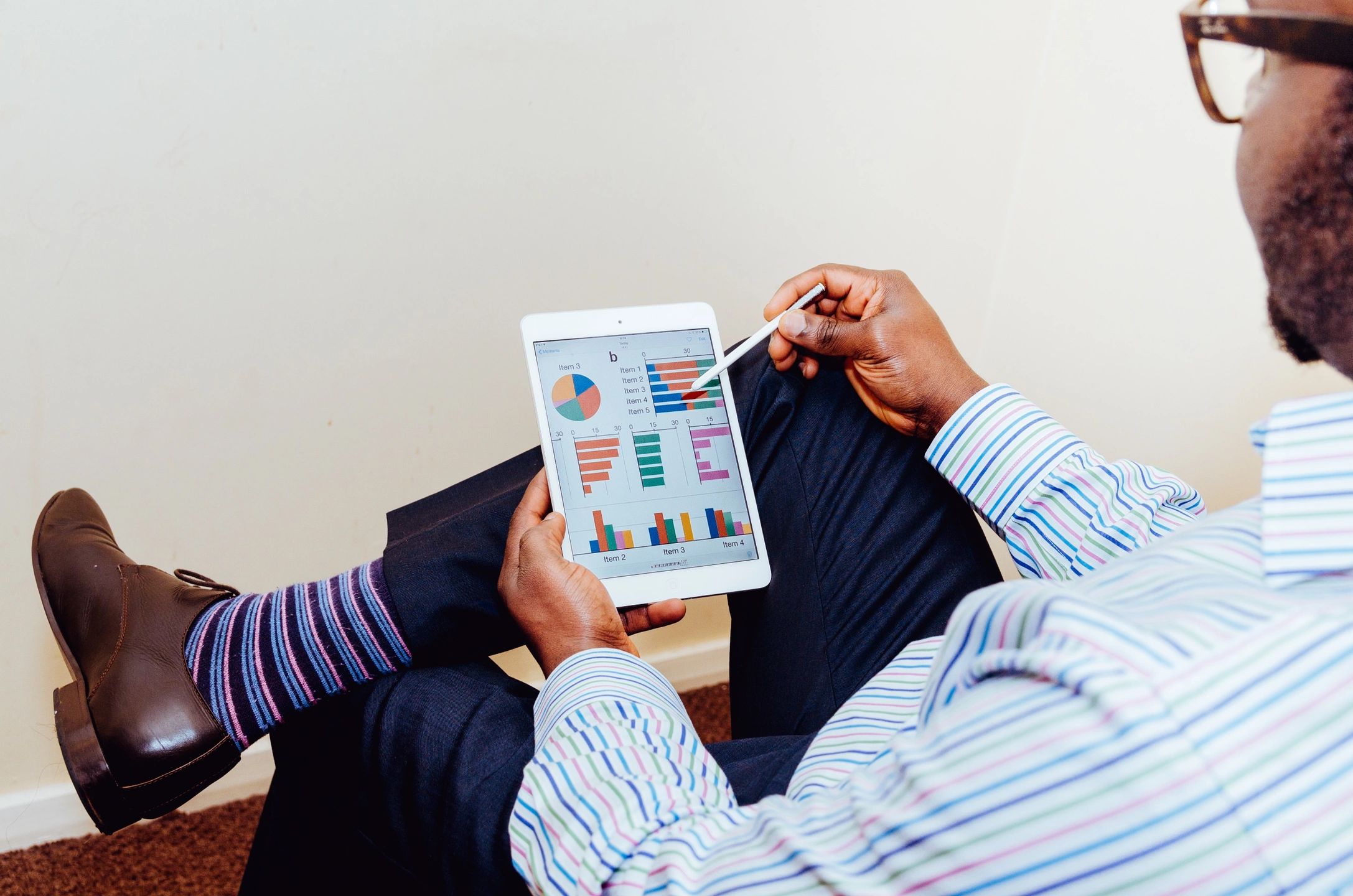 Every real estate investor I know realizes it's a lot easier to keep a client happy than to find a new one. It's been a while since I wrote The Power of a Card. No excuses for that and I apologize for the delay. In that post, I describe how doing little things brings loyalty from your residents. They are your partners in this business.
It is absolutely essential that you maintain a good relationship with your residents. But every relationship has rules and sometimes those rules aren't just between the two parties involved. In our case, the law has a lot of sway over this relationship and I hear a lot of stories that gives me concerned for hobbyist. If you own a rental property (or two, or ten, or a thousand), then you have to be a professional investor. This is not a hobby, this is a business – even if you have only one rental!
Examples of being a hobbyist
I own a number of rental units in Madison County, IL. I like small multifamily properties because they provide more security from vacancy loss. Before I even consider seeing a property for potential purchase, I run the numbers. I want to ensure my investment won't lose money. Even more important? I want to protect my investors and partners.
When You Don't Run The Numbers, A Bad Property Could Seem Good
I recently had a conversation with an aspiring investor. They were thinking about buying a property that needed extensive work. It was a duplex in the town of Granite City, IL.
$32K for a duplex sounds like a pretty decent sales price. Each side has two smallish bedrooms, a smaller kitchen, a single bath, and a living room. There's a two-car garage attached to the unit. I estimate the rents at about $525 for the one side and $575 for the garage side. The best part of this property is it's location. Close to town, but secluded and with a decent yard.
Here's the problem. The repairs needed were going to be about $30K in total. And there were some unknowns on condition, including possible copper theft. Let's say after all things were said and done, the total investment was $65K. You'll have to be all-cash on this deal.
Very few banks or credit unions will loan on this. You could talk to the Bank of Edwardsville or maybe GCS Credit Union. Perhaps they'd give you a construction loan. But most people will have to buy with all cash. So you are all-in at $65K. The property is fixed up and you are ready to let your property manager lease it up. Here's where the ongoing expenses really cut into things.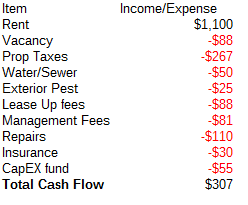 $307 a month doesn't sound too bad, does it? Quite frankly, it does. That's a 5.66% return on your investment. As a real estate investor, that's a pretty low Cap Rate for a rental property. Perhaps refinance the property and pull $50K out of it.
If you did that, your mortgage payment of $253/mo cuts your cash flow to $54/month. I don't know about you, but $54/mo doesn't sound all too enticing to me. I want a leveraged return of at least $100/mo per door.
Perhaps you're just starting out and will manage yourself and do your own repairs. Now you maybe have a "deal". After all, you're eliminating about $200/mo in expenses! So you are now making $254/mo ($3044/yr) and you have only $15K of your own money into the deal! You've hit a 20% Cash on Cash return on your investment!
An Investor Looks to the Future
Fast forward five years. You have repeated this same investment five times (Note: I do this for simplicity). You have ten doors and are making about $15,200 a year in free cash flow from the properties. But it's starting to wear you down. You're making a trip every week to do some repair. The lawn didn't get mowed by your resident and local code enforcement sent you a ticket. You've gone to court twice for evictions. You can't go on that weekend trip because you have a vacant unit that needs to be rented.
You've created yourself a second job
There is absolutely nothing wrong with managing your own properties. I do it myself and it gives me a much better return. But all of my investments have property management built into the numbers. If at any time I decided I wanted to walk away from the day-to-day responsibilities, I know that my investments would still cash flow.
So you are suddenly back down to making roughly $260/mo of cash flow off of all your properties. That's $26 a door.
What Can the Investor Do Now?
For one, you might still be able to manage the properties by yourself and instead pay a professional real estate leasing agent to rent it out for you. That will typically cost you one month's rent. Always use a licensed agent who is affiliated with a broker. You want them to have E & O Insurance, be abreast of the local and state laws, etc.
To help you better manage your properties, you could enlist the help of property management software like Rentec Direct, Buildium, etc. It costs a little bit per month, but really helps you tighten up your expenses and processes (giving you time back in your life).
You could also sell off your properties. Maybe it's time to say enough is enough. If you do decide that route, give me a call. We can at least talk it over and see what options are available to you. No obligation, no pitch.
Don't Make a Second Job for Yourself
Make sure you run the numbers. Be honest with what this investment is going to do for you, and more importantly to you, in the long run. If you could knock the all-in price to $50K, get your residents to pick up pest control, bill them back for water and sewer, and resident-proof your repairs (keeping future expense lower), then you might have a good deal.
But I won't do that for you. It's time for you to practice your skills at running the numbers.
To Your Investing Success,
Ron
Subscribe to future updates to our forum by entering your email below. We'll never sell it to anyone!